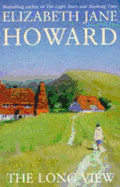 BOOKS BY WOMEN often have an aura and sensibility all their own.
Elisabeth Jane Howard

, a beauty and much lauded writer [she was married to Kingsley Amis] wrote

The Long View

which begins in the 1950s and traces a marriage back to the 1920s. It is very well-written but lacks vigour when compared to the zest of

Mary McCarthy's

The

Grou

p

—what a contrast. All the vitality of America is in this account of eight Vassar graduates. The book is funny and catches the spirit of the times in America between the two world wars. The author is sardonic; to the point and dead-honest, she reminds me of

Elisabeth Bishop

but, of course, poets are sovereign beings, which makes comparisons odious. For the lazy reader, The Group is available on DVD.
Excerpt from Questions of Travel [Elisabeth Bishop: Complete Poems]
...Think of the long trip home.
Should we have stayed at home and thought of here?
Where should we be today?
Is it right to be watching strangers in a play
in this strangest of theatres?
What childishness is it that while there's a breath of life
in our bodies, we are determined to rush
to see the sun the other way around?
The tiniest green hummingbird in the world?
To stare at some inexplicable old stonework,
inexplicable and impenetrable,
instantly seen and always, always, delightful?
Oh, must we dream our dreams
for one more folded sunset, still quite warm?